Welcome
Canstaff specialise in Construction and Engineering recruitment as well as local and global candidate sourcing. We are trusted around the world to provide a tailored service to provide both candidates and clients with a service that accurately meets your requirements.
Our Business is all about you
Candidates
Canstaff is now moving into our second decade of International recruitment with offices in New Zealand, Europe, the Philippines and Australia. If you're moving to New Zealand or Australia from the UK, or an Australian or Kiwi resident looking to work globally we can help. Our candidates find the roles that not only meet their skills and experience, but will help them propel their career ambitions.
Canstaff has gained the reputation for providing quality services. Canstaff is quick and proactive, tenacious and thorough, and is constantly seeking new approaches to ensure our services continue to meet the mark. We work as a team to meet our candidates' needs and are able to find hidden depths and latent talent through our expertise and processes.
Canstaff offers free relocation assistance to migrants that fit the criteria of the "Relocation Assistance Package" (RAP)
Our service begins when our applicants make the first contact, we become a "friend" in New Zealand, to bounce ideas off, check on the legitimacy of things you are being told, and arrange things at this end to ensure a relaxed arrival.
To search for jobs and to apply online visit our full list of vacancies.
Clients
We are proud to acknowledge that our clients' specific recruitment requirements are met with precision.
You have worked hard to develop your company culture and we will work with you to protect it. We specialise in helping businesses to find the right people to ensure your money is well spent. We will connect your company with the right staff or your money back!
Canstaff look forward to assisting you with your company's staffing and labour requirements. Our consultants are readily available to discuss in detail your current vacancies, and provide you with a quality, efficient service to fill these places in a timely and effective manner.
Attracting elite candidates that are sought after in this highly competitive marketplace, our consultants employ a rigorous screening process to draw up a list of the most suitable for the role.
Canstaff will work with you to develop a strategic plan that will assist you with forecasting your future staffing requirements.
Company Overview
Canstaff is a global, end-to-end recruitment solutions company which has assisted hundreds of international candidates to find jobs and employers to find, hire and manage the talent needed to make their business thrive.
Canstaff was established based on the vision of one man to provide a long term solution to staff shortages in Canterbury, New Zealand. Starting from humble beginnings in 2001, Canstaff was the first locally owned and operated recruitment specialist to specifically address the dire shortage of construction staff in the Canterbury region.
We have now been trading successfully for nearly two decades and work with top tier clients within the construction industry nationwide. The strategic locations of our offices in Christchurch, Ashburton, Timaru/Oamaru, Queenstown, Auckland and Pukekohe mean that we can provide a personalised service and visit clients on a regular basis.
Impeccable customer service, together with going above and beyond for clients and candidates, is at the heart of Canstaff's core values. "We love people" is more than just a mantra, it is our way of life and deeply ingrained into our staff culture. Our services have a proven record of success due to quality of service, understanding client requirements, compliance, and stringent health, safety, and training procedures.
As one of New Zealand's leading construction recruiters, we consistently assess employment trends. It became immediately apparent as far back as 2004, that the demand for construction staff outweighed the New Zealand talent pool. To satisfy the growing demand for skilled staff, Canstaff needed to think outside of the box to source quality jobseekers, from labourers through to white collar professionals and began employing overseas applicants as a joint venture with the Canterbury Development Corporation. We are able to extend recruiting horizons far beyond traditional boundaries with the worldwide recruitment and relocation of professional employees.
Canstaff now have locations in the Philippines, United Kingdom, Canada, Switzerland, New Zealand and Canada and are proud to be the international recruiter of choice for many businesses worldwide. We first delved into the world of international recruitment in 2004, starting with recruiting high quality construction staff from the United Kingdom. This proved to be extremely successful in meeting the needs of employers who were unable to find skilled staff locally. Our end-to-end service gives employers a stress-free and quick solution to fulfil staffing requirements. Canstaff strive to make the process just as stress-free for our candidates, which led to the creation of our free relocation assistance package for blue and white collar professionals who meet our stringent employment criteria to relocate to New Zealand.
We have specialist recruitment consultants committed to all sectors in the construction industry. Many of which are from the industry in which they recruit:
Professional & Technical staff (engineers, quantity surveyors, site managers, forepersons)
Labour (skilled & semi-skilled general labour, bricklayer, concrete workers, steel fixers)
Trades (electrician, plumber, carpenter, drainlayers, painter, GIB installer, plasterer)
Drivers (heavy machinery, truck drivers, HGV, Class 5)
Civil construction (project manager, HSE manager, civil engineer, CAD drafter, surveyor/technician)
Engineers (project & site engineers, mechanical engineer, project engineer, structural engineer)
Factory (production, operations, administration, management
By having specialist recruiters we believe we are offering our clients tailored solutions to meet their individual needs by someone who understands the industry.
We will listen to you and provide impartial and honest advice. We will always be open and transparent in our dealings. We will treat you with the utmost respect. And most importantly, we will always do what is right, not what is easy.
Quality Commitment
Canstaff incorporate Total Quality Management (TQM) as its set of management practices. This approach enables us to consistently meet or exceed our client and applicants expectations.
Our methods guarantee that we provide, and continue to provide our clients with the level of service that they expect. TQM looks at the overall quality measures used by a company including managing quality design and development, quality control and maintenance, quality improvement, and quality assurance.
As a part of TQM, our staff are regularly offered on-going training and development.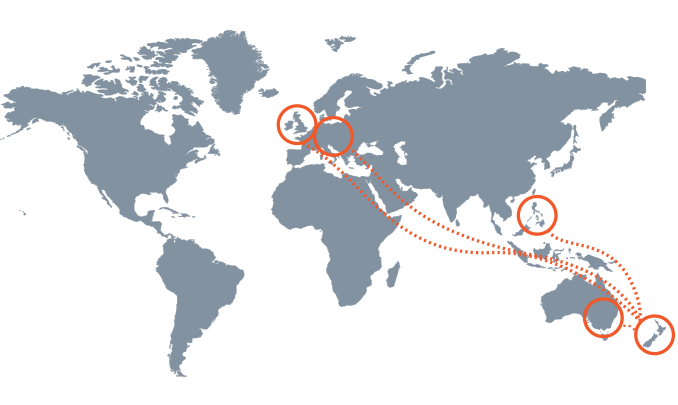 ---
A Trusted Brand with a Global Reach
After over a decade of International recruitment the company now has links throughout New Zealand, Australia, United Kingdom, Switzerland, Canada, Europe and the Philippines.
Working closely with global organisations and multinationals, as well as local brands and SMEs, our consultants ensure that:
Each of our clients' specific recruitment requirements are met with precision
Our candidates find the roles that not only meet their skills and experience, but will help them propel their career ambitions.
As a global recruiter we are also sensitive to local needs, and we are proud to represent New Zealand, whilst still remaining flexible enough to handle the recruitment needs of smaller businesses and small and medium-sized enterprises. A tailored service complemented by our cutting-edge technology.
Through on-going investment in our staff and technologies, we are able to provide you with a service that accurately meets your requirements.
Our dedicated resourcing and research team includes top tier graduates, all of whom possess up-to-date business intelligence, market knowledge and industry expertise.
Sourcing candidates both locally and globally, our unique model is focused around a variety of search and selection methodologies. Through advertising and networking strategies, sophisticated market mapping and business intelligence techniques, our international network of consultants are able to pinpoint those professionals on our database or in our network who match the criteria of each vacancy.
Attracting the most elite candidates that are sought after in the highly competitive marketplace, our consultants employ a rigorous screening process to draw up a list of the most suitable candidates for each vacancy. This empowers businesses with the best selection of talent and offers our candidates opportunities to help them take the next step in their career.
Health & Safety
Canstaff recognise the paramount importance of Health & Safety across all industry departments today. We have developed a comprehensive health & safety management system – Cancare. Ensuring that your safety is our first priority.
Our programme includes:
Our Health & Safety Commitment
Hazard identification & Management
Accident Investigation
Health & Safety Induction
Return to Work Programme
All of our staff:
Comply with relevant legislation and codes of practice;
Hold current Site Safe passes which are validated (where required);
Have current licences and endorsements (as required);
Prior to starting on site are checked for personal protective equipment. Hard hats, high viz vests, safety glasses and steel toe capped safety boots are provided as required.
Meet the Team
Coming Soon!